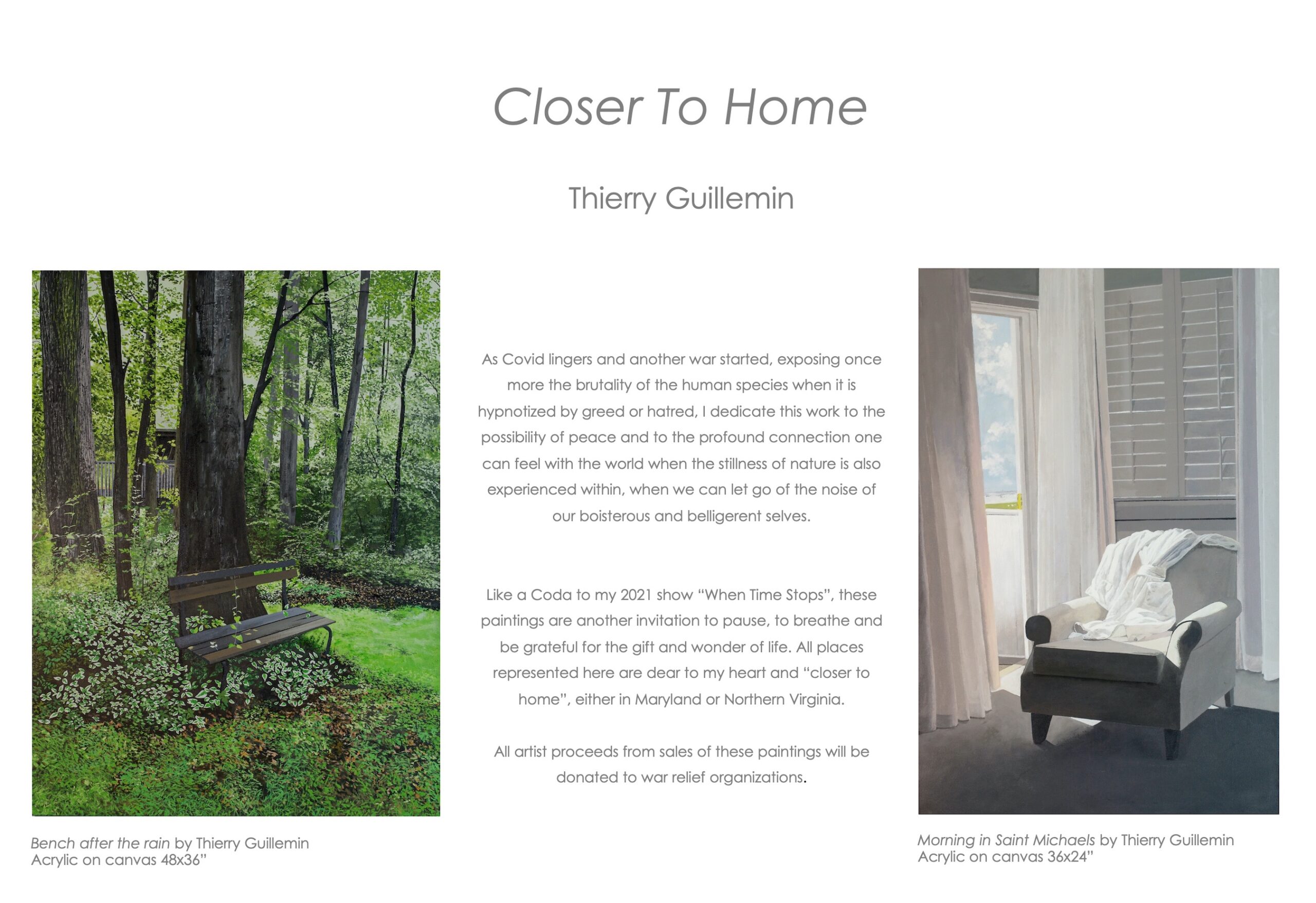 This bench can be found in a spiritual center in Northern Virginia. One could miss it easily though, as the background has been modified for this composition.
I wanted to convey a profound impression of stillness, of a place to slow down and pause, to come back maybe for a moment to one's true home, the simple and vibrant awareness of being alive.
In this way this painting talks about presence, about the possibility of really experiencing one's own presence, which is a gift.
This bench speaks also of time, inexorable, that does not begin, does not end, never stops. So, this painting talks about absence. Of those who have left. Of those who are leaving at every moment. Of all those loved and remembered, parents, elders, friends, whose both presence and absence are felt at the same time, because they are never truly gone and continue to live in us and to be missed in multiple ways.
And so this bench evokes both presence and absence, two notes in the same chord. Its own presence feels like a timeless question. It is here always, after the rain, under the sun, covered with snow in winter, it is here by daylight and at night under the stars. It will most likely be there still when we are gone. As life continues to flow, immense, much bigger than we are ever able to know.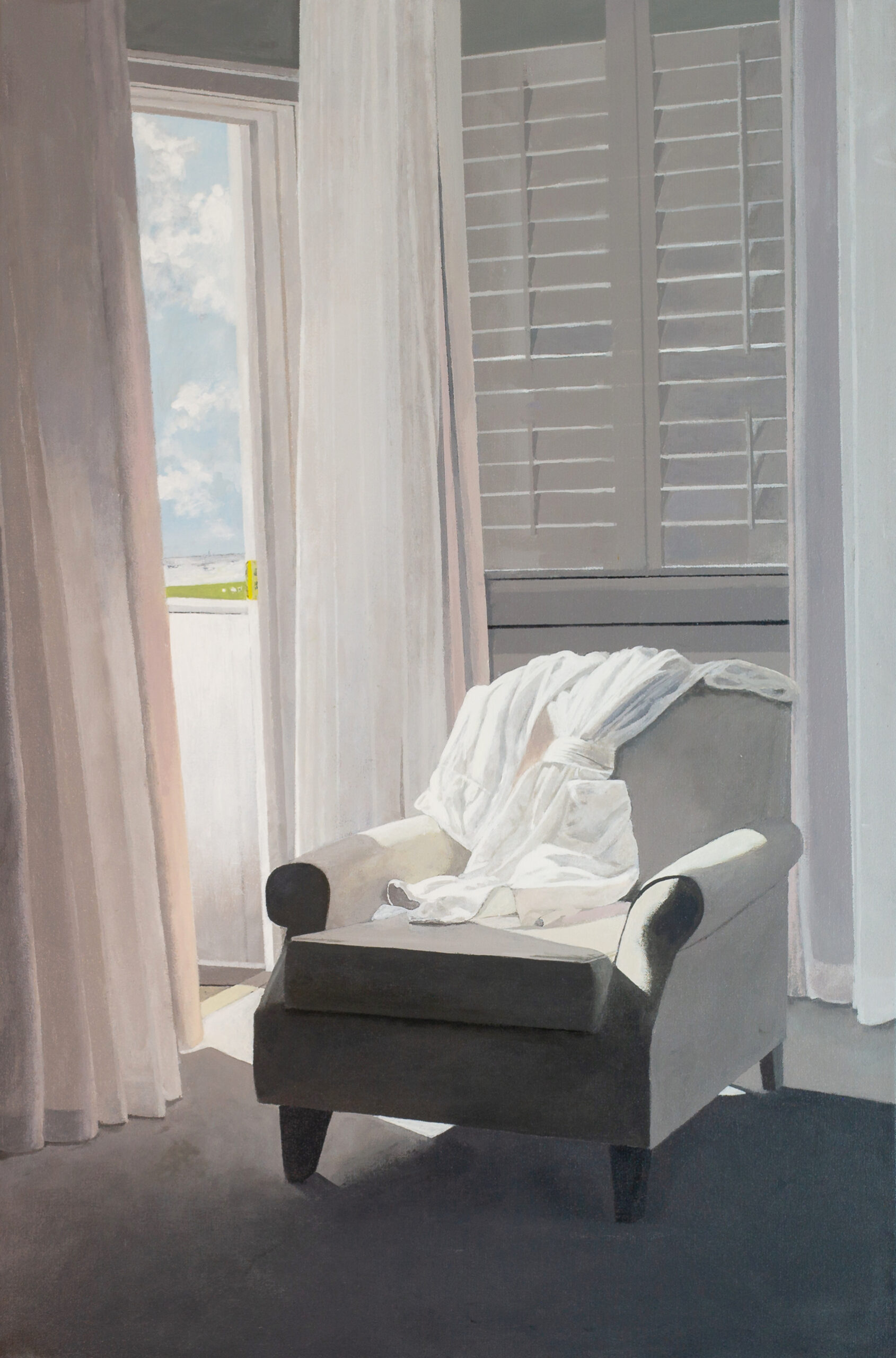 Saint Michaels is a charming and quaint little town on the Eastern Shore of the Chesapeake Bay, on the Miles River, a little more than an hour drive from Washington, DC. Like a memory of 18th century New England in 21st century Mid-Atlantic. As I painted this interior scene, the soft glow of plantation shutters, the light-dark (clair-obscur) of a cozy hotel room with sunlight shining through the back terrace door, it was as though I could perceive the echoes of life outside: The river shimmering under the bright sun of late Spring, the sounds of boat engines and gulls, the scents of the Bay, with its marine life, its hardworking watermen, and its leisurely sailors. 
In a way, light is the subject of this painting, like it often is. But as sunlight comes into this quiet room and brings with it the promise of all that the town and its river have to offer, the bathrobe lit up on the armchair is an invitation to stay inside, comfortable, protected, and private.
Isn't it our human condition, to be always between these two worlds, the inner life that only I can know and see, and where all my impressions and my experience of life are recorded, moment after moment, and the world of the others, the world of appearances, where one is expected to manifest and to play a role that others can understand?
For a moment time is suspended between these two worlds, and here I stand, watching.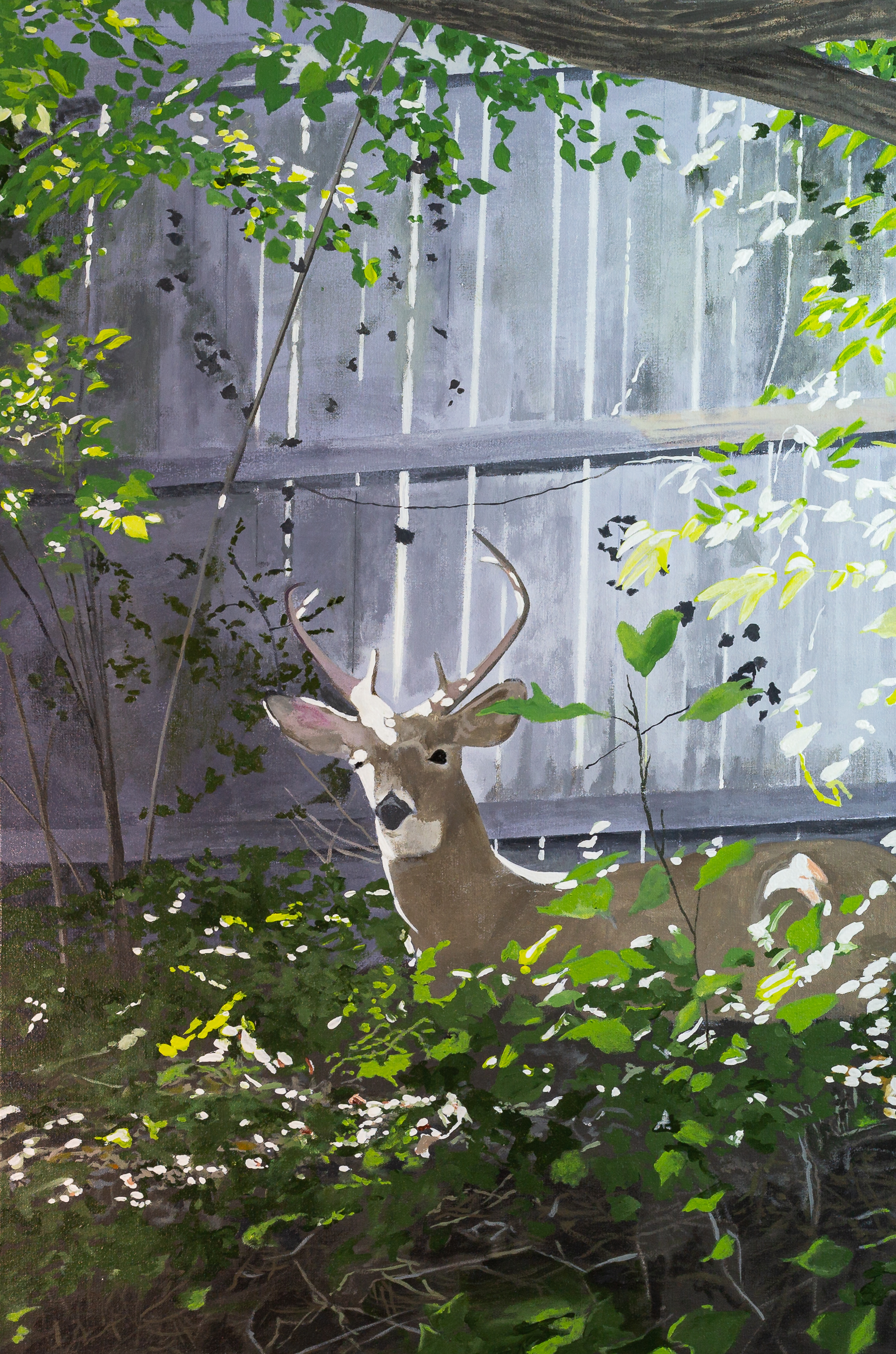 A deer came to our backyard in Bethesda, Maryland one afternoon and went right up the ivy-covered slope to lie down and rest for a while against the wooden fence. Like wild animals always do, he seemed to know exactly what his place was in the world. And in that moment, this backyard was his place.

I pulled a chair and sat down in the garden a few yards from him, and for a long while, we studied each other. We seemed to have all the time in the world. In a way, there was a feeling of not being so foreign to each other. Sharing in the beauty of an encounter where nothing more was demanded than being there, just how we were, and simply paying attention, or rather giving attention, to each other. And no need to say a word about it.
Then I came to paint this blissful moment and it felt like a gift that continued to give.
The impressions of light flickering on the ivy and honeysuckle leaves reminded me of scenes painted by others in the serenity of a garden, like for instance "le déjeuner sur l'herbe" (Claude's, not Edouard's).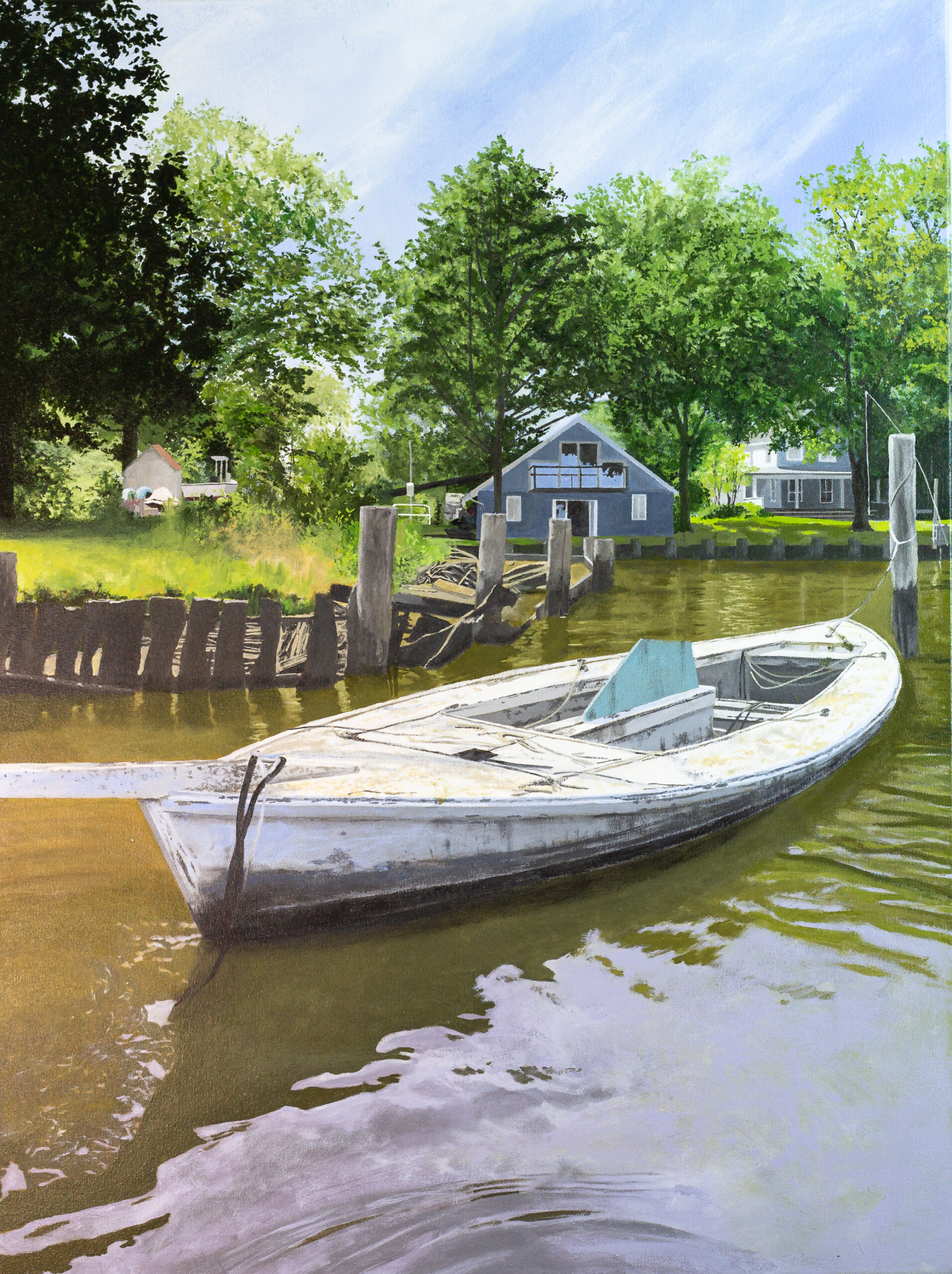 Since this was painted, this decaying canoe has continued to sink. And yet because the West River is very shallow in this place, it did not drown. It just remains there, sitting on the muddy bottom and filled with more water, continuing to disintegrate very slowly.

Maybe this little scene of decay in Galesville, on the Maryland Western shore of the Chesapeake is a symbol of the times. As well-to-do Washingtonians keep their expensive boats in marinas around the Bay, and the boats stay idle at the dock most of the time as their owners live busy professional lives in the Nation's Capital, traditional ways of life and whole communities of watermen on the Chesapeake Bay are aging and slowly disappearing. Sometimes the places where their ancestors have lived and worked the Bay for centuries, for rockfish, oysters, and blue crabs, are literally sinking into the Chesapeake, like Hoopers, Holland or Tangier islands and many others, slowly destroyed by a relentless erosion and the rise of sea level, as climate is changing.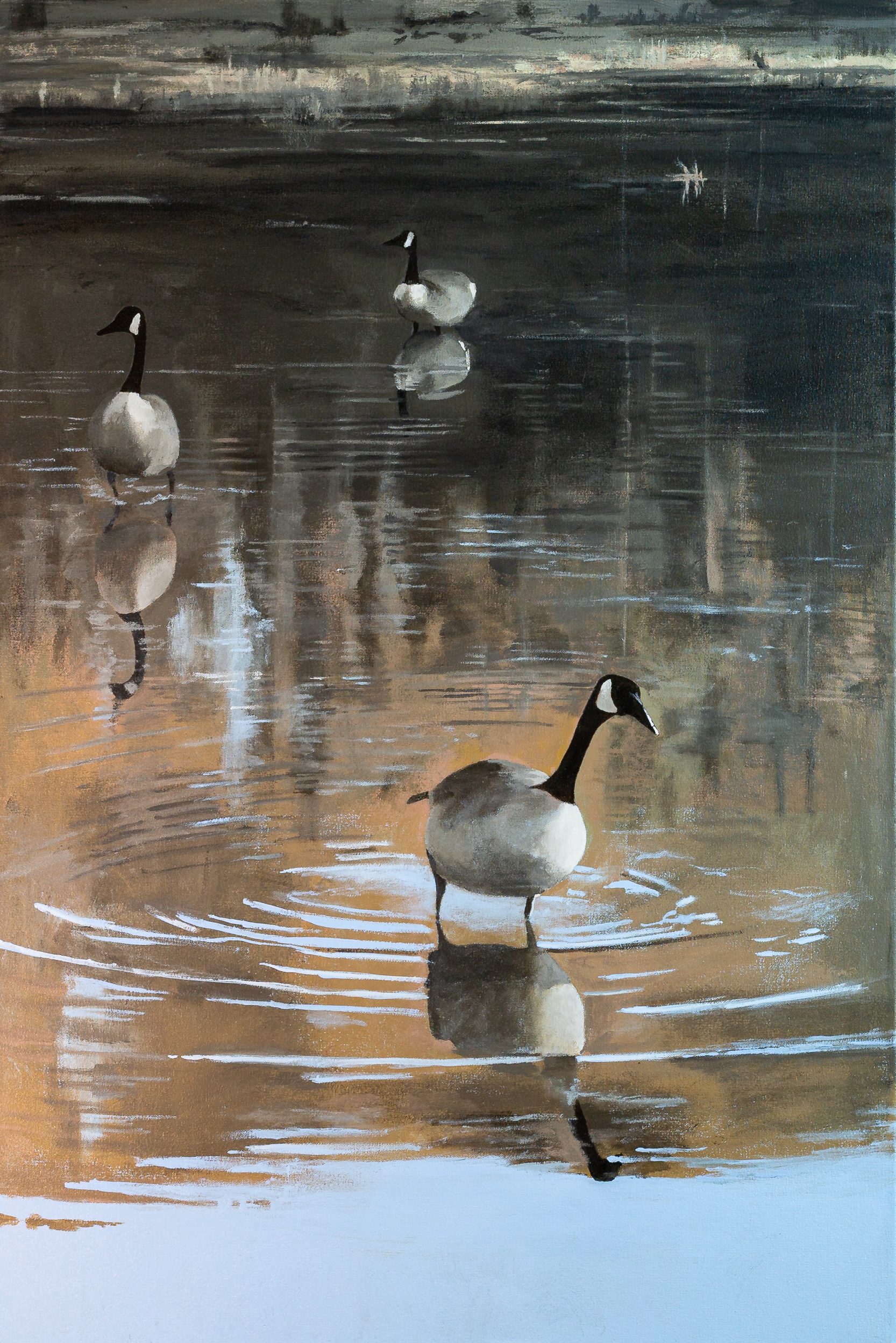 In last year's exhibit at Studio Gallery, "When Time Stops", I had a painting titled "Chesapeake Triad", of three sea gulls taking flight in succession off a green navigation marker on the Bay. This is another Triad, of Canada geese this time, making their way through a flooded field in the northern section of the Rock Creek Park going to Lake Needwood, in the Maryland suburbs of Washington, DC.

There is always something very powerful about a Triad. It seems complete, balanced, self-sufficient. And at the same time, a Triad is often the result of a union, and of the creation that this union made possible, and as such it is also a very potent symbol of creative energy.

It is this dynamic image of the Triad in movement that I was exploring in last year's painting, and again here, an impression made stronger this time by the reflection of the birds in the pool. The ripples made by the cautious progression of the goose in the foreground mark the surface of the water like a time signature, and the background of earthy Fall colors seems to be moving towards the reflection of the open sky.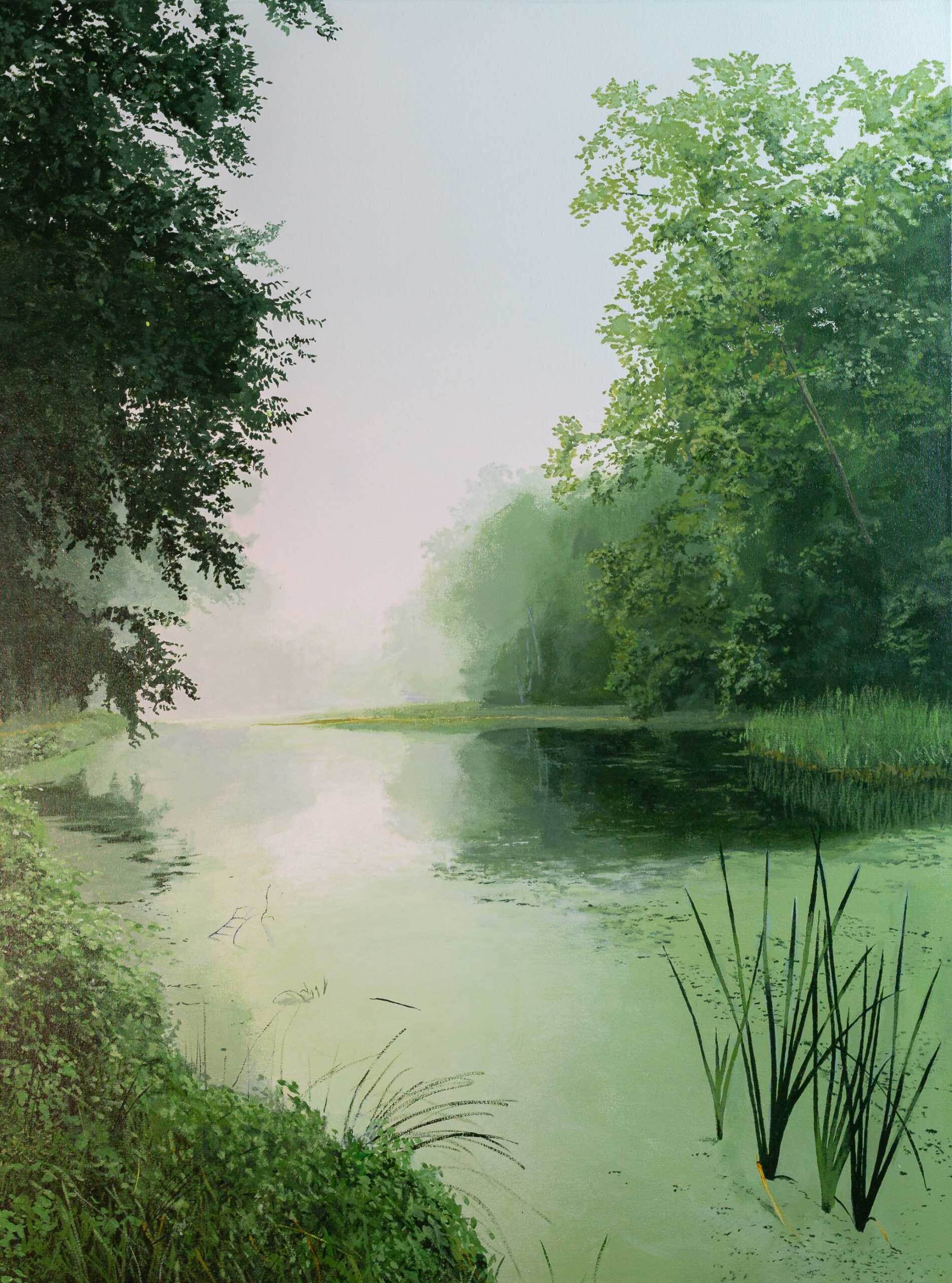 A walk at sunrise with dear friends along the C&O canal, near Carderock (minutes from Washington, DC) on the day of Summer Solstice 2021, reminded me how much I had forgotten about the magic of dawn.
How life can be felt everywhere when the light begins to appear, under every rock, on the bark of every tree, on every leaf. As morning dew is sprayed over every inch of organic life, spider webs turn into rivers of pearls. An occasional beaver goes about his aquatic business. How tenderly the sun awakens the earth and slowly unveils her beauty. How one feels a sense of belonging, of not being separated. Of being part of nature, made by nature. Nourished by it.
And how lost we are when we forget it.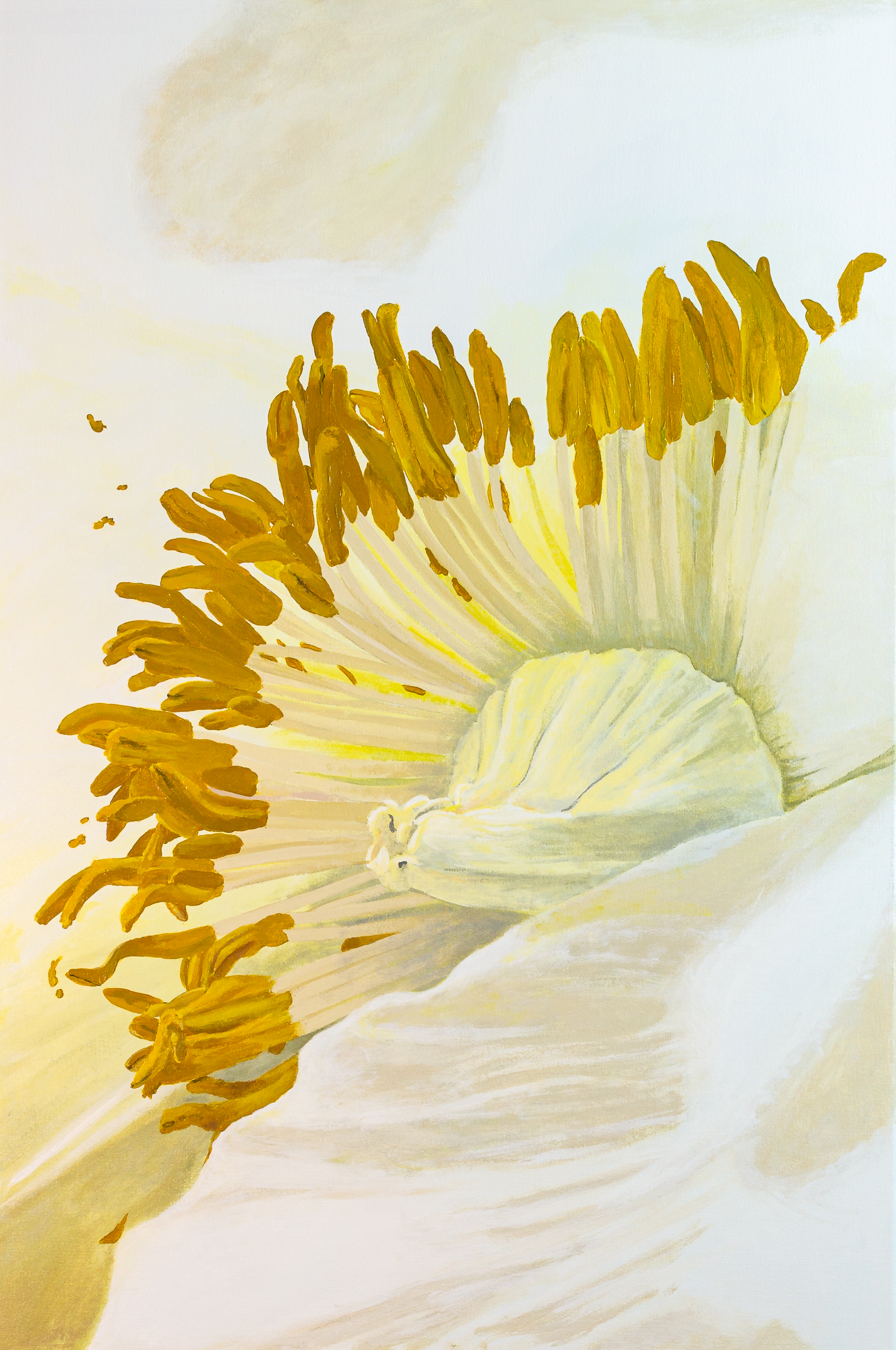 We did not hang this last work in the show (even though I initially planned to) as it is so different from the others. But it is at the Gallery, and it can be seen if one asks Halley the Director or Gallery staff for it (or me if I am around that day). 

Ré and I were just back from ten days in New Mexico, and I wanted to paint one more piece before the show. We had visited the home and studio of Georgia O'Keeffe in the village of Abiquiu, and the Ghost ranch, where she had lived and worked when she first moved from New York to this mountainous desert near Santa Fe and Taos. So, when I started to paint the heart of this peony (it is Ré's favorite flower that she grows in abundance in our front yard in Bethesda), I probably still had Georgia very much … on my mind.
Despite what I said above, I feel that this work belongs in this group of paintings as it was initially intended.